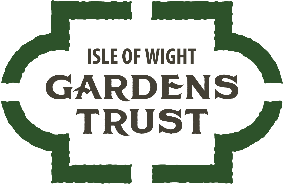 Caring for the Island's parks, gardens and designed landscapes since 1989
Info@iowgardenstrust.co.uk
All content of this website is © Isle of Wight Gardens Trust 2022
The following is a list of our most recent projects:
Walled Kitchen Gardens Project
In 2014 a one year IWGT project to identify, record and learn about the history of walled kitchen gardens throughout the Island was made possible by a Sharing Heritage grant from the Heritage Lottery Fund.
Work by volunteer detectives, helped by many garden owners, resulted in a 90 page book, Walled Kitchen Gardens of the Isle of Wight.
Thanks to the Isle of Wight History Centre (www.iwhistory.org.uk) Walled Kitchen Gardens of the Isle of Wight can be found online by clicking here.
Designed Landscapes
Historic Environment Action Plan (HEAP)
As part of the Heritage Lottery funded East Wight Landscape Partnership Down to the Coast project Dr Vicky Basford has written comprehensive Island wide report on parks, gardens and other designed landscapes.
This report will inform Down to the Coast projects up to 2020 as well as the IW Council and others who are involved in the care of our parks and gardens. It will also provide a basis for future work by the Gardens Trust.
The 'Designed Landscapes HEAP' has been published on the Isle of Wight Council's website and can be found by clicking here.
'Capability' Brown Festival 2016
The Isle of Wight Gardens Trust celebrated the 300th anniversary of the birth of Lancelot 'Capability' Brown and his involvement with Appuldurcombe with expert guided walks and a 'Capability' Brown Festival assisted by the East Wight Landscape Partnership and Ventnor Botanic Garden.
The specialist speakers at the Festival have kindly supplied papers based on their presentations which can be accessed on this page.
More detail about the Appuldurcombe landscape can be found on this page.
Repton 200 Celebrations - 2018
2018 marked the bicentenary of the death of Humphry Repton. To mark this, the Gardens Trust coordinated a year of events held across the country,
We worked with Oakfield Primary School who are located at St John's House, Ryde, one of the Repton sites on the Island. Together we explored the changes to the designed landscapes in the area and the influence of Repton.
We also produced a booklet on further research on Repton's influence on the Isle of Wight. If you would like a copy, please contact us. An electronic copy can be found here.